>
Research & Development
>
Company Research Center
Company Research Center
You can see the ethical management and company culture of AinA Co., Ltd.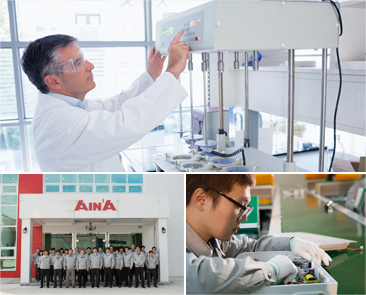 The company research center of AinA Co., Ltd.
has been open in 2010 and developed innovative and creative
medical equipments verifying the theory and experiment
through the task of governmental R&D.
Afterwards, expanded the research area and performing the
study activity making a synergy effect through the network
with the domestic governmental research institutes and
leading universities such as ETRI, Yonsei University, Hanyang
University, Yeongnam University, Kyungpook national
university hospital and etc, and the convergence cooperative
research among multi relationships.
To do this, we are securing the human resources of research
in each part and focusing every strength on development and
research on the health care related independent technology
such as multi wave LED ARRAY technology, research on
created ones by the response for LED light, smart electric
stimulation control system, smart care device technology
using bio sensor, Light care contents and etc.
Business and Academic Cooperation
and Cooperative research
AinA is using the excellent research human resources of universities and governmental institutes
and research conditions, building up the smooth and systematic cooperation system among companies,
academies and institutes such as making a creative intellectual property right, dealing with difficult
technology matter of manufacturing sites of local small businesses, cooperative technology development
for higher value-added creation, manpower training customized by the company and etc, and seeking
the reinforcement of competitiveness of local companies and revitalization of local economy.
Cooperative research
Industry-Academy cooperation

Hanyang University

Yeongnam University

Kyemyung University

Korea Nazarene University